MagicWands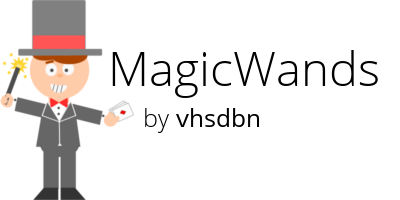 | | |
| --- | --- |
| Developer: | iZefix |
| Latest Version: | 2.0-pre1 |
| Downloads: | 3566 |
| Rating: | 4.5 / 5 (2 reviews) |
| Price: | Free |
Download


latest version 2.0-pre1
Previous versions
MagicWands is a very powerful plugin which brings magic onto your server. Take out your wand and say a spell ... and something will happen...
The Wiki is still hosted at bitbucket.org, but it will be moved soon.
Contents
Configuration
To set up the plugin simply issue the /mw command and go to Settings.
Recipes
How to craft a wand
You can simply craft a wand by putting this into a workbench.
Commands
The following commands are available with MagicWands :
/wand, /magicwands [/mw]
How to install
Installing MagicWands is quite easy. Just follow the following steps.
Download the current MagicWands.jar from betafase.com
Upload it into your servers plugins-Directory
Reload or restart your server
How to update
Simply update the plugin using the integrated Auto Updater.
Execute the command /mw update
Wait until the server asks you to restart
Click Yes or execute the command /reload
Of course you can also redo the installation process.