MCMWarps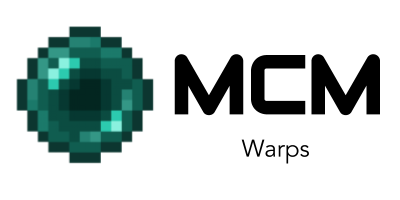 | | |
| --- | --- |
| Developer: | iZefix |
| Downloads: | 502 |
| Rating: | 4 / 5 (2 reviews) |
| Price: | Free |
Download


from spigotmc.org
This is the description of the Spigot page of this plugin. Feel free to check the plugin out there aswell.
​
Features
Custom description and icon in GUI

per warp permission support

configure warp in GUI

enable/disable warps

search for warps

warp animation (can be disabled)

delay before warp (can be disabled)

stand still to warp (can be disabled)
​
This plugin depends on MCManager . You have to install it to use this plugin.
Screenshots
Commands
/warp [warp]
Shows all for the player available warps in a GUI or warps the player to the specified warp.
Permission: warp.<name> or no permission
Permission to change warp settings in GUI: editwarp.<name> or editwarp.* or setwarp or OP
/setwarp <name>
Creates and enables a new warp at the location of the player.
Permission: mcm.setwarp or OP
Permissions
warp.<name> per warp, warp.* for all warps
editwarp.<name> per warp, editwarp.* for all warps
setwarp to set new warps
mcm.* or OP overrides all permissions
If you have any issues, please create a ticket on BitBucket . Ask questions in the discussion. If you like the plugin, please leave a review. Do NOT ask questions or post issues in the review section.